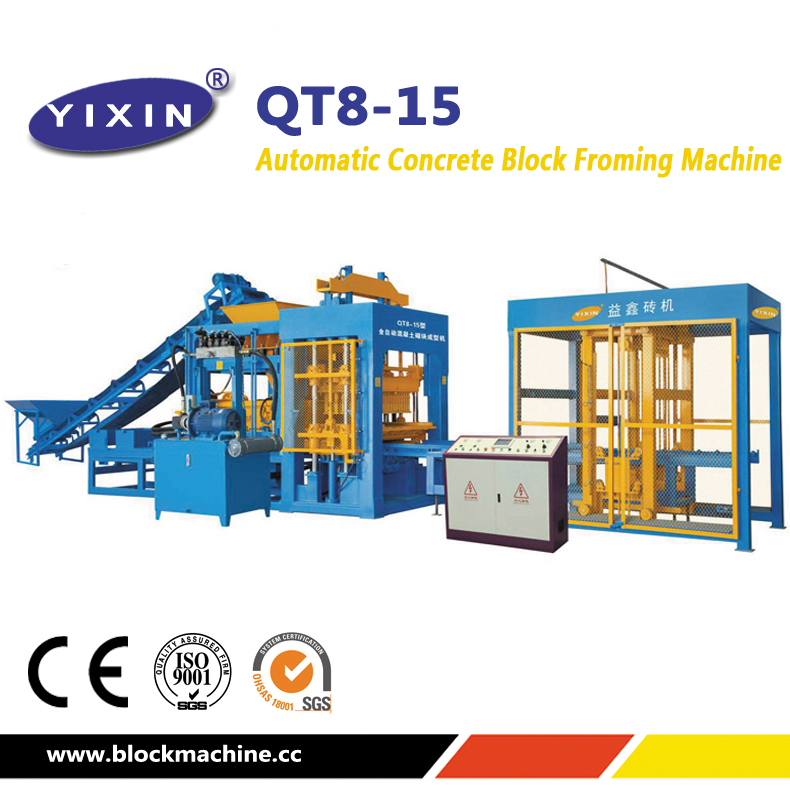 QT8-15 Automatic concrete block froming machine
Consultation
Sales service hotline
0086-595-2296 3811
description
parameter
Equipment matching
Production plan
Customer case
Product video
Main Technical Specification
8pcs/Pallet(BLOCK 400*200*200mm) 1600pcs/hr.
Production 8 hrs. 40pcs/Pallet(SOLID 240*115*53mm) 8000 pcs/hr.
Production per Shift 27pcs/pallet(HOLLAND BRICK 200*100*60mm)5400pcs/hr.
20pcs/pallet(RIPPLE SHAPE225*112.5*60mm) 4000pcs/hr.
Cycle Time 15-20seconds
Hollow Block(400*200*2000)5,000pcs
Production per Shift (8 Solid Block;( 240*115*90mm)24,000pcs
Working Hours) Interlock ;( 240*115*51mm) 12,000pcs
Holland Brick;(200*100*60-80 mm)14,000pcs
Vibrating speed 2900rolls/ minute
Vibrating Force 95KN
Motors Power 31.7KW
Machine Dimensions 9800*3600*2800mm
Pallet Size 940*860*25mm
Gross Weight about 11.5T
Raw Materials crushed stone, sand, cement, dust and coal fly ash, cinder, slag, gangue, g ravel, peril, and other industrial wastes
Applied Products concrete blocks .,solid/hollow/cellular masonry products, paving stones with or without face mix, garden and landscaping products, slabs, kerbstones, grass blocks, slope blocks, interlocking blocks, etc.
Applied Fields widely used in buildings, road pavings, squares, gardens, landscaping, city constructing ,etc.